Creative Director, Brand Manager, Senior Graphic Designer and Motion Graphic Artist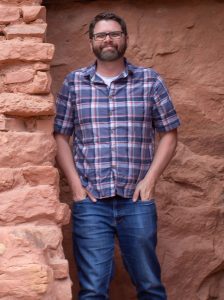 Hi, I'm Dustin! I'm a multimedia graphic designer that lives just south of Minnesota's Twin Cities with my wife and two sons. I've been a professional graphic designer and creative lead for around 20 years, working in-house on really high-end marketing and creative teams in B2B and B2C companies. Additionally, I've taken on freelance projects with a lot of great small businesses and large companies.
I'm a versatile multimedia designer with skills in branding, print and social media advertising, website front-end design, setting up websites with a CMS, UX and web accessibility, photography, video editing and motion graphics animation, and more. Additionally, I have a record of producing really thoughtful assets that stand out due to my years of experience with creative and project management processes.
Check out my full list of skills and capabilities below.  I look forward to connecting with you about your organization and creative projects.

Personal Information
Name Dustin Marson
Location Minneapolis-St Paul, MN Metro Area
Email dustin@dustinmarson.com
Phone +1 612 839 6043
Professional Skills
Creative Director & Brand Strategist
10+ years of experience leading creative teams where I've coached designers, video editors, and writers to do their best work and to use an effective creative process.  I've also produced many projects effectively with design, marketing, and video production companies.
Senior Graphic Designer
I execute designs at a high level due to my creative process, history of building domain experience through research strategies, and also due to my aptitude for disseminating extensive content and challenging concepts into a thoughtful, user-friendly solution.
Web & Interactive Designer
I've designed website and application interfaces with the latest features and user experience (UX) best practices in mind. I've also built a strong working knowledge of Search Engine Optimization (SEO).
Video and Motion Graphics Specialist
10+ years of experience producing product explainer videos, I've shot case study videos with graphics, and other promotional videos for demos, presentations, and social media advertising.
Freelance Offerings
Small Business Website Design
Small Business Brochures and Sales Flyers
Small Business / Startup Logo and Branding Design
Banners and Signage Design
Logo or Artwork Digitizing
Video Editing, Videography, and Motion Graphics
Company / Corporate Headshot Photography
Book Layout and Cover Design
Digital and Print Advertising Design
Social Media Ads, Email Graphic Design, etc
What My Colleagues Say
Dustin provides excellent, consistent design and production work for web, video and print media. Beyond his creative abilities, Dustin has shown an attention to overall marketing messaging of creative projects, and has a keen eye for detail. Dustin has been a reliable, diligent asset to the team, paying special attention to deadlines, budget constraints and going the extra mile when necessary to ensure they are met.
Dustin is laser-focused on developing high-quality content and on meeting timelines for projects – no matter how unreasonable they may be. He not only contributes to formalizing the look and feel of content and make them market-ready but also goes beyond the visual & design elements to really crystallize how we are conveying our message and if there is a better way to do it.
Besides being super fun to work with, Dustin is an intelligent person who is able to present creative products and communicate effectively. He successfully created superb work for our company. During his tenure, we saw the business and marketing quality grow significantly. Dustin has a unique ability to create fantastic designs and video in a timely manner for a very diverse clientele. Though he was a huge asset to the design team, Dustin was also extraordinarily helpful in other areas of the company. In addition to writing effective marketing pieces, tracking production goals and SLAs, Dustin also assumed a leadership role in training, inspiring and motivating other employees.
Dustin is an extremely talented Graphic, Web and Multimedia designer and I feel lucky to have had the privilege to work with him. He has impeccable work ethic, is creative and has an amazing eye for detail. His skills, communication and problem solving abilities make him a very valuable asset, I highly recommend Dustin.